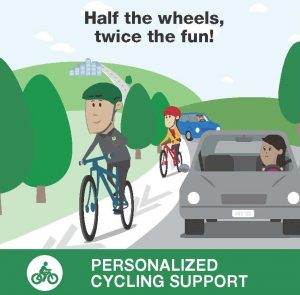 Pledge to achieve your cycling goals
Want to incorporate cycling into your commute? Want to encourage your friends to ride? Want to master biking with no hands? Want to dust off that bike in the garage get it ready to hit the roads?
Make a pledge and get support from Smart Commute NTV to make cycling to campus easier than ever!
Here's how it works:
Make your pledge at ca/bwd
Smart Commute NTV will send you a short survey and order form to find out which resources you need to achieve your goals (maps, bike lights, information, etc.)
You will receive a personalized package of materials, as well as the chance to discuss route options and find out more about cycling to work.
Smart Commute NTV will stay in touch throughout the summer to provide more tips and advice to support you achieving your goals.